Amber Neben wins second UCI Women's Time Trial title
Comments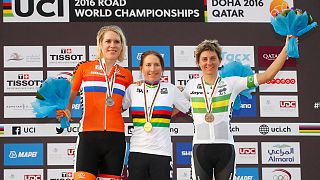 The UCI World Road Race championships continue in Qatar with the Elite Womens' time trial, and it was won by the 41-year old Amber Neben from America.
Neben was the oldest rider in the event, and had previously won the 2008 edition, but this race eight years on was far tougher, with her winning margin a mere six seconds.
Neben's stiffest challenge came from another former UCI world champion, Ellen Van Dijk from the Netherlands.
Neben started the strongest, but Van Dijk clawed it all back by the second time check to take a four second lead, but faded in the final stretch after falling six seconds behind at the third checkpoint. She was never able to eat into that cushion.
A three-way battle emerged for the bronze medal spot between another Dutch rider, a Russian, and an Australian, all nearly half a minute behind the leaders. But it was Aussie Katrin Garfoot who was able to dig the deepest and in a storming finish outpaced the others to grab third place, just two and a half seconds behind Van Dijk.