Suicide bombers killed in a Turkish police operation near Ankara
Comments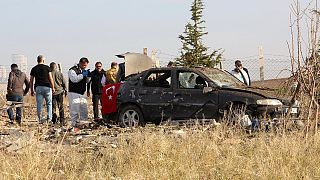 Two militants suspected of planning a car bombing blew themselves up in an operation near Ankara after refusing to surrender to police.
The provincial governor said there was a 'high probability' of a link to the Kurdistan Workers Party or PKK, adding that they were 'probably going to attack' the capital.
Forensic teams found plastic explosives and 200kg of ammonium nitrate.
Kurdish militants have been responsible for a wave of bombings in Turkey since a fragile truce broke down last year.