Russia deals another blow to nuclear cooperation with US
Comments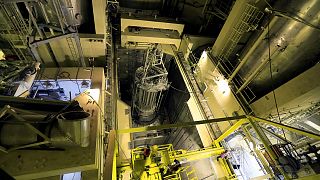 Russia has further reduced its cooperation with the United States in nuclear energy by suspending a research agreement and ending one on uranium conversion.
The Kremlin has explained its decision as a counter-measure to US sanctions imposed on Russia over Ukraine.
Russia suspends another nuclear deal with US due to Washington's unfriendly steps https://t.co/90Lc97cECU

—

TASS

(@tassagency_en) October 5, 2016
Whatever the reason, it's being seen as another step in the cooling of relations between the two powers.
Following the announcement Russia's nuclear agency played down its significance saying the agreement had never really achieved anything.
Sergei Novikov, spokesman for Rosatom said:
"The work under this agreement hadn't started at all, because in the beginning of 2014, as we all know, there was a crisis in bilateral relations, the introduction of sanctions, and later the State Department of the USA on their website said they had no intention of developing this kind of cooperation. De facto this was a dormant treaty that never really took off."
The move however, comes just a matter of days after the Kremlin shelved an agreement with Washington on the disposal of surplus plutonium.
The Russian Foreign Ministry claims that decision was taken in response to "unfriendly acts" by the US which had earlier suspended talks with Russia on trying to end the violence in Syria over Moscow's role in the bombing of Aleppo.
Analysts suggest the Kremlin is providing itself with a bargaining chip to be used in disputes with the US over Ukraine and Syria.
In response to the latest move the US said it regrets Russia's decision.