UK marathon man completes anti-bullying awareness quest
Comments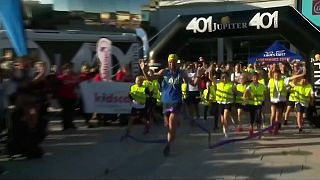 Ben Smith completed his extraordinary goal of 401 marathons in 401 days on Wednesday.
The 34-year old embarked on this mission to raise awareness of anti bullying charities.
Smith, who was bullied for years at school because he is gay, raised £250,000 for for anti-bullying charities.
He started and finished his marathon quest around the UK in his hometown of Bristol.
He said: "It's been a rollercoaster and I don't even think my feet have touched the ground to be honest with you. I think the next couple of weeks, after everything starts to wind down and I start to wind down in my cool down process, I'll start to reflect and start to put some thoughts together really about what has happened on each day. I'm starting to buzz now."
Smith began his Forrest Gump-like journey on 1 September 2015.
Despite developing an umbilical hernia along the way he covered just over a total 16,900km and was joined by 9,000 people well wishers.