FIFA sanction several national associations for fans' insulting chants
Comments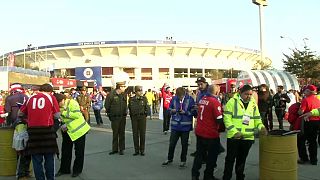 FIFA has imposed sanctions on several football associations for the discriminatory and unsporting conduct of their fans during recent World Cup qualifying matches.
Chile have been handed a one-match ban playing at their national stadium and a fine after their supporters were found guilty of homophobic chanting during a match against Bolivia in September.
It was Chile's second offence for fans singing insulting chants this year.
General Secretary of the Chilean FA Sebastien Moreno defended the majority of fans insisting it was the actions of a few which led to the sanctions: "We estimate that the chanting for which we are accused of as a team are isolated acts. Fortunately there's been a tendency to decrease the extent of this kind of activity. But these songs persist among a very isolated sector of fans. They are very few in number, but this is a reality that's come to be installed by the FIFA (punishing xenophobic acts) and we have to take care of it, not hide these problems of discrimination. And beyond taking repressive steps, we have to educate our fans."
Having already played one game away from their national stadium in Santiago, they will now have to find a new venue for their World Cup qualifying match against Venezuela next March.
FIFA has also opened disciplinary proceedings for anti-discrimination against Honduras, El Salvador, Mexico, Canada, Brazil, Argentina, Paraguay, Peru, Italy and Albania.