Almost 11,000 saved in Mediterranean in two days
Comments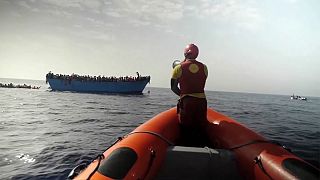 Many bodies found in vessel's hold
Three babies born on rescue ship
142,000 arrive in Italy since start of 2016
More than 4,650 migrants were saved on Tuesday off the coast of Libya.
It brings the total rescued in the last 48 hours to nearly 11,000.
Nearly 11,000 Migrants Rescued in Last 48 Hours Off Libya: Italian Coast Guard guardiacostiera</a> <a href="https://t.co/dPAe2huNFS">https://t.co/dPAe2huNFS</a></p>&mdash; InigoNYC (InigoNYC) October 5, 2016
Suffocated in the hold of a boat
29 people were reported to have suffocated in the hold of one overloaded fishing boat.
Three further bodies were recovered from a wooden vessel that was intercepted by the Italian navy.
It had an estimated 1,000 people on board and was on the brink of capsizing.
The deaths bring the total who perished on Monday and Tuesday to 50.
guardiacostiera</a> difunde imágenes de miles de migrantes varados en barcos europeos tras ser interceptados 10.000 <a href="https://t.co/qXz6VYGJnH">pic.twitter.com/qXz6VYGJnH</a></p>&mdash; Sergio Rodrigo (SRodrigoruiz) October 5, 2016
Three babies born
Italian officials say three women saved on Monday gave birth on board a coastguard vessel that was bringing around 1,000 refugees to Sicily.
The women and their newborns are reported to be in good health.
#SAR#NaveDattilo#GuardiaCostiera: giovani #migranti, con assistenza personaleCIS0M</a>, danno alla luce 3 <a href="https://twitter.com/hashtag/NuoveVite?src=hash">#NuoveVite</a> <a href="https://t.co/G770GhRrwk">pic.twitter.com/G770GhRrwk</a></p>&mdash; Guardia Costiera (guardiacostiera) October 5, 2016
#migranti, tre bambini nati sulla nave Dattilo della Guardia Costiera https://t.co/OLMk8HLOQ1#cronaca

— Sky TG24 (@SkyTG24) October 5, 2016
Fresh rescue operations underway
Coastguard officials say fresh rescue operations are underway on Wednesday, but less intense than the previous two days.
The numbers
The vast majority of refugees come from Africa, including Nigeria, Eritrea, Guinea, Gambia, Sudan, Ivory Coast and Somalia.
The latest surge in new arrivals means:
142,000 migrants have arrived in Italy since the start of the year
3,100 have died making the trip (estimated)
154,000 came to Italy in 2015, 2,892 perished
The European Commission plan
As part of a deal to relieve pressure on Europe's frontline states in the migration crisis, the European Commission last year devised a plan aimed at moving thousands of new arrivals away from Italy and Greece towards other EU members.
Under the scheme, up to 40,000 migrants could be relocated from Italy over two years.
However, only a few hundred have been flown out so far.
What they are saying
"Obviously, the good weather has played an important role in explaining the large number of recent arrivals," – Coastguard spokesperson