Russia wants 'clarity' from US on Syria
Comments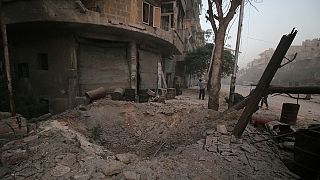 With ties between Moscow and Washington increasingly strained, the Russian Foreign Minister has said a deal between the two countries on Syria is in limbo, blaming the US for a lack of clarity.
US-Russia tensions have escalated since the breakdown of a ceasefire last month, and the Kremlin said that the US failed to separate moderate groups from jihadists.
"Agreements that are, so to say, hanging in the air right now, to a decisive extent because it is unclear how Washington regards the actions of the opposition, a whole range of opposition groups."
As diplomatic stalemate drags on, the Syrian government backed by Russia continues its assault on Aleppo. The latest reports from a monitoring group claim that the largest hospital in the besieged eastern part of city has collapsed after being hit by three air strikes in the past six days.
Medical staff say it is now completely out of service, leaving quarter of a million people with less and less access to essential healthcare.