Pound stays low against euro and dollar despite UK financial policy pledges
Comments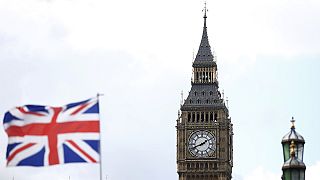 Reacting to the uncertainties from the Brexit vote Britain's finance minister Philip Hammond has confirmed he has reversed some of the policies of his predecessor George Osborne.
For the time being the pound should remain very sensitive to any information we get, because it's coming against the backdrop of a lot of uncertainty

BNP Paribas currency strategist
In a keynote speech at the ruling Conservative party's annual conference, Hammond said the UK is no longer planning to run a budget surplus by the end of the decade and will not cut the corporation tax for companies below the planned 17 percent.
Osborne had suggested it would need to go below 15 percent to counter the effects of the Brexit vote.
We welcome Philip Hammond's U-turn on investment spending & his admission that their failed 'long-term economic plan' never really existed. pic.twitter.com/jfulVo4UND

— John McDonnell MP (@johnmcdonnellMP) October 3, 2016
He also pledged companies, regions and universities would not lose out on EU grants for development and regeneration projects: "The Treasury will offer a guarantee to bidders whose projects meet UK priorities and value for money criteria, that if they secure multi-year EU funding before we exit, we will guarantee those payments after Britain has left the EU, protecting British jobs and businesses after Brexit."
An economy that works for everyone. My speech at #CPC16https://t.co/uMxNtS68se

— Philip Hammond (@PHammondMP) October 3, 2016
Political commentators pointed out that phrase about meeting "UK priorities and value for money criteria" could provide reasons to turn down projects.
Philip Hammond could compensate firms hit by Brexit trade tariffs https://t.co/OZSlHnUgRK

— The Independent (@Independent) October 3, 2016
Hammond also promised to keep a lid on day-to-day spending but could borrow for building more homes and what he called targeted, high-value infrastructure investment – things like the High-Speed 2 railway line, linking Britain's north and central regions with London.
In a radio interview he explained: "I want to make a clear distinction between everyday spending and investment in the kind of infrastructure that will raise Britain's growth potential in the future, because growing this economy, ensuring that we're creating the jobs and the economic wealth in the future is the way to secure Britain's future prosperity,"
The conference speech gave some indicators of what to expect in the new finance minister's first budget statement in late November.
But it failed to perk up the pound, which on Monday was at a three-year low against the euro and at almost its lowest in 31 years against the US dollar.
Pound index drops beyond post-Brexit low on May's speech https://t.co/SCE2yTeyz9pic.twitter.com/AIsrJBRqpl

— Bloomberg (@business) October 3, 2016
Sterling had slipped after British Prime Minister Theresa May set a March deadline for the start of the formal process (Article 50) for Britain to split from the European Union.
BNP Paribas currency strategist Sam Lynton-Brown, in London, said: "There's been very little information given so far on the angle the government is going to take when it invokes Article 50, so for the time being the pound should remain very sensitive to any information we get, because it's coming against the backdrop of a lot of uncertainty."
For now, sterling's weakness has helped British exports and the economy. Data released on Monday showed factory activity grew at the fastest rate in more than two years last month and suggested manufacturing growth in the third quarter will be the strongest so far this year.