Thousands protest proposed total abortion ban in Poland
Comments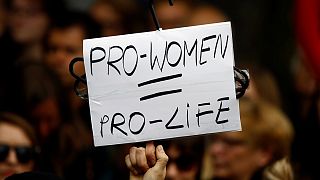 Thousands of people decked in black clothes have taken to the streets of Warsaw to protest against a total ban on abortion in Poland.
Under the current law, abortions are only allowed in cases of rape, incest or if a woman or foetus' life is in danger, and a new bill is being considered to restrict it further.
Powerful pressure group Stop Abortion collected 450,000 signatures to push for a total ban on abortion in the largely Catholic country, while the pro-choice Save Women coalition petitioned to liberalise the laws.
"A quarter of a million signatures for the modern bill have been thrown into the garbage while the project that punishes women five years in prison for having an abortion was sent for further work to the parliament's committee. We cannot be deaf and blind. That's why we're here," Dariusz Jonski from the "Democratic Left Alliance" party told the crowd.
Another protest is scheduled for Monday (3.10.16) when women are being called upon to go on strike to protest against the anti-abortion bill.
Protest against bid proposal introducing a total ban on abortion & prenatal diagnosis in Poland #CzarnyProtest#blackprotestpic.twitter.com/ra4YhI0HJn

— Natalia Ojewska (@Natalia_Ojewska) October 1, 2016
Women in Poland coming out in force to fight a radical new abortion law that risks women's lives. #CzarnyProtesthttps://t.co/38WQ5GbaoMpic.twitter.com/qx0Mqt6Y3g

— Andrew Stroehlein (@astroehlein) October 1, 2016
Solidarity protests in Europe
Prague stands in solidarity with polish women #CzarnyProtestpic.twitter.com/XnPYL83TqL

— Ondřej Mazura (@OndrejMazura) October 1, 2016
We are on Victoria Square supporting #PolishWamen#blackprotest#czarnyprotestpic.twitter.com/d9SnrCfHpy

— Alicja Kaczmarek (@KaczmarekAlicja) October 1, 2016
My heart and mind are with all Polish women protesting for their basic rights today. We are all with you! #CzarnyProtestpic.twitter.com/2cCBTsw6uZ

— Terry Reintke (@TerryReintke) October 1, 2016