US election: Trump accused of violating Cuba trade embargo
Comments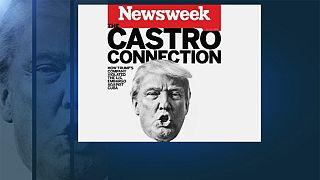 Did Donald Trump breach the US trade embargo on Cuba?
A company controlled by the Republican presidential nominee is alleged to have tried to do business in the Communist-run country in the late 1990s, despite the strict American ban.
Trump's Democratic rival picked up on the story in Newsweek magazine.
"Today, we learned about his efforts to do business in Cuba which appear to violate US law, certainly flout American foreign policy," Hillary Clinton said on her campaign aircraft.
"And he has consistently misled people in responding to questions about whether he was attempting to do business in Cuba."
Read our latest cover story: Donald Trump's company violated the US-Cuban embargo in 1998 https://t.co/goW637z0Hcpic.twitter.com/OiOqT6ThVa

— Newsweek (@Newsweek) 29 septembre 2016
Newsweek, citing interviews with former Trump executives, internal company records and court filings, said the Trump company spent at least $68,000 for a 1998 trip to Cuba at a time when any corporate expenditure in the Caribbean country was prohibited without US government approval.
The Trump company did not spend the money directly, but funneled the cash for the Cuba trip through an American consulting firm, Newsweek said.
Trump's campaign manager Kellyanne Conway took to Twitter with denials that he has done business in Cuba.
For those getting hard news fr. @TheView, biz officials tell me Trump: 1) did no biz in Cuba 2) respected embargo 3) was critical of Castro

— Kellyanne Conway (@KellyannePolls) 29 septembre 2016
On the campaign trail in New Hampshire on Thursday, Trump himself insisted that it is Clinton who should be under scrutiny.
"She and her financial backers will say anything, do anything, lie about anything to keep their grip on power, to keep their control over this country," he told a rally in Bedford.
"The American people have had it with years and decades of Clinton corruption and scandals."
"The American people have HAD IT with decades of Clinton corruption and scandals." - @realDonaldTrump#FollowTheMoneypic.twitter.com/VRjvqqLNaz

— Official Team Trump (@TeamTrump) 30 septembre 2016
With Trump widely seen as having lost this week's TV debate to Clinton, his supporters are frantically trying to drum up support for their candidate ahead of November's election, which still promises to be a tight contest.