Dutch investigation into MH17 crash 'biased and politically-motivated' says Russia
Comments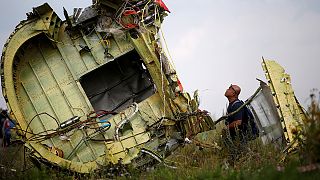 Moscow has denounced as 'biased' an investigation into the downed Malaysia Airlines flight MH17.
The Dutch inquiry found that a Russian-made missile hit the plane. It, the report stated, was launched from a Ukrainian village held by pro-Russian rebels.
Russia issued a statement saying it is "disappointed by the fact that the situation with the Boeing crash investigation hasn't changed," and adding that "the conclusions of the Dutch prosecutor's office confirm that the inquiry was biased and politically-motivated."
Almaz-Antey, the Russian state-owned anti-aircraft missile manufacturer which made the BUK used to shoot down the plane, said the findings presented by the Dutch team were based on a simulation of the crash, not reality.
"During today's presentation real technical evidence was almost absent," claimed Mikhail Malyshevsky, an adviser to the company's Director General.
"Certain questions were not touched upon, and we at Almaz Antey believe this isn't right."
Both Ukraine and Russia operate BUK systems and have accused one another of being guilty of causing the crash.
This week, the foreign ministry released radar data purporting to show that no missile was fired at the plane from rebel-controlled territory in eastern Ukraine.
The Russian Foreign Ministry issued the following allegation:
"To arbitrarily designate a guilty party and dream up the desired results has become the norm for our Western colleagues," spokeswoman Maria Zakharova said.
"The investigation to this day continues to ignore incontestable evidence from the Russian side, despite the fact that Russia is practically the only one sending reliable information to them."
Dutch investigators say they have not yet seen the newly-released data. However, they added that the evidence is strong and their conclusion is unlikely to change.