Air strikes hit two hospitals in eastern Aleppo
Comments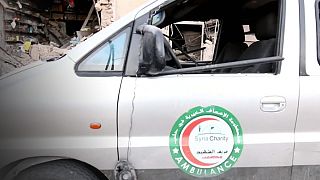 The two largest hospitals in the rebel-held part of Aleppo have been hit by air strikes.
Aid workers say the raids, which happened at 0400 on Wednesday morning, took both hospitals out of service.
"A military plane targeted the sites directly," said Adham Sahloul from the US-based NGO the Syrian American Medical Society.
"Now that these two sites are out of service, there are only six hospitals left in operation in the east of Aleppo," Sahloul added, describing the attacks as deliberate.
Workers wounded
Three employees – a nurse, an ambulance driver and an accountant – were injured at one of the hospitals.
A generator was destroyed in the other.
Who was behind the attacks?
It is not clear.
Both the Syrian government and its ally, Russia, are engaged in a bombing campaign on eastern Aleppo, which the Syrian Army wants to retake.
So far, there has been no confirmation or denial.
Monitors say Syria's government and its Russian backers have stepped up air attacks on rebel-held parts of the city since the end of a ceasefire last week.
At least 22 die in attacks on Tuesday
At least 22 people are feared to have died in a bomb attack on a building in Aleppo's Al Shaar neighbourhood on Tuesday.
Local activists claim the so-called "bunker-buster" bombs were used in the attack.
The UK-based Syrian Observatory for Human Rights says at least 23 people died in air raids in Aleppo on Tuesday.
The death toll is expected to rise as rescue workers clear through the rubble.
Papal intervention
Pope Francis has urged forces to stop bombing civilians in Aleppo.
The Pontiff warned them they would face God's judgement.
Speaking to tens of thousands of people in St Peter's Square, Francis called Aleppo "this already martyred city, where everybody is dying – children, old people, sick people, young people."
International reaction
The US says the assault on Aleppo is proof that President Bashar al-Assad and his Russian and regional allies have abandoned the international peace process.
Washington, which agreed a ceasefire with Russia this month that collapsed after a week, says Moscow and Damascus are guilty of "barbarism" and war crimes for targeting civilians, health workers and aid deliveries in air strikes.