"Nowhere to hide" - volunteer describes conditions inside Aleppo
Comments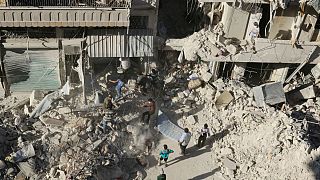 Syrian government forces have reportedly sealed off yet another rebel-held neighbourhood in Aleppo adding to the nearly 300,000 people effectively trapped inside the besieged city.
They are all....sitting in their homes waiting to be killed

Head of "White Helmets" volunteers
Over the past week the cut off areas have endured the worst aerial onslaught since the start of the war, with more than 200 people killed and several buildings flattened.
The head of a Syrian volunteer group Raed al-Saleh, described the situation as desperate.
"There is nowhere that Syrian civilians can hide or take cover in the city of Aleppo. They are all just basically sitting in their homes waiting to be killed and there's no solutions for these people."
The group known as " "The White Helmets" "https://www.whitehelmets.org/ which has 120 members working in Syria, says they have witnessed 1700 air strikes on Aleppo in the past eight days – 19 of those have been attacks with bunker busters and 200 with internationally banned cluster bombs.
Only about 30 doctors are left in rebel-held Aleppo, coping with hundreds of wounded each day who are being treated on the floors of hospitals that are bereft of supplies.
The United States says the assault on Aleppo is proof that President Bashar al-Assad and his Russian and regional allies have abandoned an international peace process to pursue victory on the battlefield after nearly six years of civil war.
The World Health Organization called for the "immediate establishment of humanitarian routes to evacuate sick and wounded" from the besieged eastern part of the city.