Syria: Assad forces tighten grip on Aleppo
Comments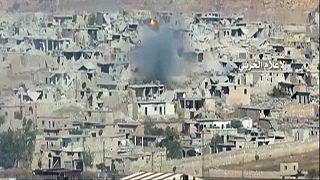 Russian-backed Syrian forces seized strategic territory to the north of Aleppo on Saturday, marking the first major ground advance of an offensive to retake rebel-held zones and bring the entire city under Assad regime control.
Pictures provided by Syrian government-controlled media purportedly show the battle for Handarat, a former Palestinian refugee camp, in rebel hands for years.
On elevated ground, it overlooks one of the main roads into Aleppo where residents of the rebel-held half say warplanes have unleashed unprecedented firepower.
Aleppo resident Yousef said that early on Saturday morning, President's Assad's forces struck with a powerful missile that shook everything, killing seven children and their mother.
"There is no civil defence or first aid. He has destroyed the country and killed many people. There are still many under the rubble and we continue to pull them out," he said.
#UPDATE Syria's Aleppo reels from new wave of air strikes - latest with pics by @KaramAlmasri25https://t.co/4IeW7ciqau#Aleppo

— AFP news agency (@AFP) 24 septembre 2016
Rebel officials said heavy air strikes on Saturday hit at least four areas of the opposition-held east. Video of the blast sites showed huge craters several metres wide and deep.
It is unclear whether Syrian or Russian warplanes are behind the new wave of fierce air strikes that have left dozens dead and dealt a bitter blow to any hopes of reviving a short-lived truce.
The United Nations children's agency UNICEF said the fierce attacks have left nearly two million people in Aleppo with no running water. Negotiations are underway, it says, to repair a water pumping station and get water flowing back to the city.
"#Aleppo is slowly dying, the world is watching, the water is being cut off-it's just the latest act of inhumanity." https://t.co/O76tXFouu2

— UNICEF (@UNICEF) 24 septembre 2016
The collapse of peacemaking, and Assad's decision to launch an all-out assault on the last big urban area still in rebel hands, appears to mark a turning point in a conflict that was in stalemate for years. Assad and his allies seem more determined than ever to crush the nearly six-year-old rebellion by force.
Western countries and international aid organisations say they fear for the lives of the more than 250,000 civilians believed to be trapped in the rebel-held zone of Aleppo, Syria's biggest city, divided into opposition and government sectors for years. The army says it is only targeting militants.