New winners grab medals glory on day two of IJF World Cup in Zagreb
Comments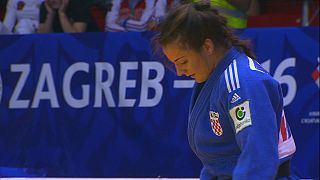 Day Two of the Judo Grand Prix in Zagreb, Croatia, and with most Olympic stars taking a well-earned break or others being at the wrong stage of their preparations, it was an all-new set of judoka carrying off first Gold medals.
In the women's under 70 kilos class it was a happy homecoming for Barbara Matic, who had her home fans jumping with the twice junior world champion's third senior title, and Croatia's first Gold of the meeting.
In the under 63-kilo class Poland faced Russia , and it was Karolina Talach who emerged the victor over Diana Dzhigaros,the 21-year-old Russian making her first World Cup appearance. Talach's win was Poland's first Gold, and revenge for teammate
Katarzyna Klys's final loss to Matic.
In the mens' competition in the minus 81-kilo class Alan Khubetsov won Russia's first gold medal of the tournament by beating Hungary's Laszlo Csoknyai. Khubetsov is confirming his early promise and now looks set to become Russia's number two at this weight behind Olympic champion Khasan Khalmurzaev after a string of good results.
Finally some cheer was brought to the Ukrainian fans in the under 73-kilo category as the top seed Dmytro Kanivets won all four of his fights on the way to the title and his first IJF Gold medal, beating Tommy Macias of Sweden in the final. It was sweet reward for missing out on selection for the Rio Olympics.
The day's most memorable moment came perhaps on a note of defeat, as Kosovo's Akil Gjakova failed in his bid to become his country's first male IJF medalist in any colour, being upended with an ura-nage for ippon by Uzbekistan's Sukhrob Tursunov in a bronze medal match. In Kosovo, the men have yet to capture the same glory as their female judoka, who have been making history in the sport this year.