Tragedy at sea as another migrant boat sinks in the Med
Comments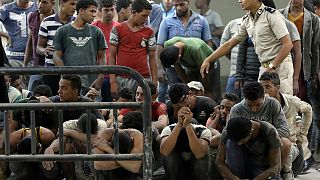 At least 43 people have been killed and scores more are missing after a boat carrying almost 600 migrants capsized off the coast of Egypt.
Locals gathered on the quayside in the town of Rasheed as rescue workers said they had saved only around 150.
It's the latest tragedy among migrants trying to reach Europe.
Some accused the police of doing nothing to help.
"The fishing boats here, they are the ones who set out to look for the boat, they are the ones who brought the bodies out of the sea and the children.
That's it. The traffickers… they are all known by name to the police around here, everyone knows the police are taking monthly payments from them."
At least 42 killed as migrant boat capsizes off Egypt https://t.co/imOpJmSJwopic.twitter.com/ak92VQe0Pn

— Dunya News (@DunyaNews) September 21, 2016
Those who survived were detained in the town's local police station. The army claimed to have thwarted an illegal immigration attempt, saying the boat had sunk 12 miles out at sea.
Most of those on board had been Egyptian Sudanese and Somali migrants.
More and more people have been trying to cross to Italy from the African coast over the summer months, particularly from Libya, where people-traffickers operate with relative impunity, but also from Egypt.
Some 320 migrants and refugees drowned off the Greek island of Crete in June. Migrants who survived told authorities their boat had set sail from Egypt.
Some 206,400 migrants and refugees have crossed the Mediterranean this year, according to the International Organization for Migration.
More than 2,800 deaths were recorded between January and June, compared with 1,838 during the same period last year.