Football: Video Assistant Referee goes live in the Netherlands
Comments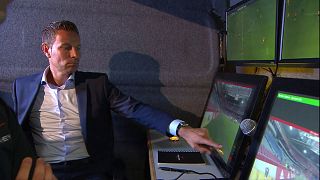 History was made in the Netherlands on Wednesday when the first official ''live'' Video Assistant Referee was used during a Dutch Cup tie between Ajax and Willem II.
Anouar Kali went down as the first player to get his marching orders as a result of the system.
At first he was cautioned by the referee, but the man in the van with all the technology saw something more serious had happened.
After reviewing the footage the Video Assistant Referee communicated his decision to his on-field colleague and a few seconds after the incident Kali's initial yellow card turned into a red one.
Despite it being the correct decision the slightly delayed red card caused confusion amongst the fans at the Amsterdam Arena as they were not aware of the test.
Football's rulemakers are expected to decide in 2018 whether to authorise the use of video technology and include it in the laws.