The war in Colombia is over, Santos tells UN
Comments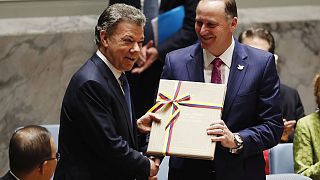 Colombian President Juan Manuel Santos has officially submitted the peace deal to end his country's civil war to the United Nations Security Council.
The accord between Bogota and the left-wing FARC guerilla group stood out as a bright spot as Syria's turmoil continued to dominate day two of the UN General Assembly.
"I return to the United Nations today, on the International Day of Peace, to announce with all the strength of my voice and my heart, that the war in Colombia has ended," Santos said.
Commended by UN chief Ban Ki Moon for his leadership and vision, Santos went on to say: "A Colombia where the resources that used to finance war will now be better geared towards education, health care and security for Colombians. A Colombia that opens its arms to the world."
The peace treaty will be formally signed later this month in the Colombian city of Cartagena. It will then be put to a nationwide referendum on October 2 before it becomes law.
The deal requires the full demobilisation of FARC fighters within 180 days of its signature.
The more than 50 year conflict has killed an estimated 260,000 people and displaced millions.