Super PACs rule for Hillary Clinton
Comments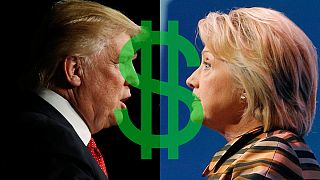 President Obama told the UN that there is too much money in American politics. Now it has been revealed exactly how much that is.
Hillary Clinton has over $190 million (170 million euros) in campaign funds remaining, just a month and a half before the US goes to the polls.
Her competitor, Donald Trump, has only just over $100 million (90 million euros).
The presidential hopefuls have released more of their campaign finance details, in accordance with US election regulations.
These figures show not only what remains in their war chests, but how much each candidate has raised in total, since the beginning of the campaign, and crucially, how the donations were made.
Clinton has managed to raise more than double Trump's total, at $520 million (466 million euros). But tellingly, a significant majority of this has come in large donations and from Super PACs.
Super PACs are groups independent of candidates or party structure, which attract unlimited donations, but cannot directly coordinate with the campaigns. Instead they produce materials in support of the candidates, including television adverts both in favour of the candidates they support, and against those they do not.
On the other hand, although Trump has raised much less money overall, at just $200 million (180 million euros), 65 percent of this has come from small donations of less than $200 (180 euros) per donation.
But this reliance on grassroots support has not translated into a typical expenditure for the Republican's campaign.
Unlike Clinton, Trump has not spent his money on staff payrolls or TV advertising.
Hillary Clinton put 68% of campaign money into ads last month, & saw a big dip in small donations. Via mateagold</a> <a href="https://t.co/p927jS46GR">https://t.co/p927jS46GR</a></p>&mdash; Anne Rumsey Gearan (agearan) September 21, 2016
Instead, the property mogul has spent the money in online advertising ($21 million – 18.8 million euros) and $11 million (9.8 million euros) on yard signs and clothing, including his famous 'Make America Great Again' hats.
While Trump continues to win the battle for the dollars of blue-collar workers and small donations, his affiliated Super PACs have struggled to raise the money they promised.
Rebuilding America Now, for example, said it had over $30 million (26.9 million euros) in committed donations in June. But when results for that month's donations were posted, Tom Barrack's fund had only managed to raise $2 million (1.8 million euros) of that sum.
Clinton's money comes from a series of Super PACs, often backed by single donors, making very large donations.
These include George Soros, chairman of Soros Fund Management, and Donald Sussman, president of Paloma Partners Advisors.
With these wealthy backers, and a bulging war chest, it is thought that Clinton will have an advantage over her rival in the final stretch of this election, as both candidates continue to tour the country in search of undecided voters.
However, with the anti-establishment feeling that Trump has successfully engaged with, he has reversed the trend of past elections to win over small donor funds.
With his undeniable popularity, and polls as close as they are (Clinton leads by four points nationally, according to the latest Reuters/Ipsos poll), this election is sure to run down to the wire.