Ryanair says Greece ignored attempts to negotiate reduced airport taxes
Comments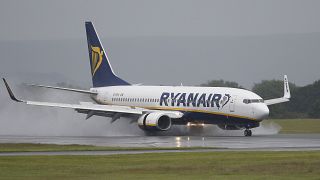 Budget airline Ryanair has accused the Greek government of ignoring its attempts to talk about reducing airport taxes in the low season in return for increased flights.
Ryanair's Chief Commercial Officer, David O'Brien, told Euronews Greek airport departure taxes are so high that the carrier is going to stop flying altogether to Kos next year and will reduce flights to other islands.
O'Brien said they had pledged to bring an additional five million passengers to Greece if there was a reduction in the taxes: "The main problem really is airport prices and airport taxes in Greece. We have written several times, more than 20 times, to various Greek ministers, not just this government, to the previous government, and they are perfectly entitled to disagree with us, we did not get any answer I might add. Therefore we decided 'let's not waste our time'."
He pointed out that on a ticket price of 43 euros, tax of 40 euros – the amount for Athens airport – made no sense.
The Greek Culture Minister Elena Kountoura said she did respond and told the airline it was a matter for the finance and transport ministries.
By contrast Ryanair said after it recently petitioned Rome, the Italian government dropped a planned increase in airport departure taxes and as a consequence the airline will base more planes there next year with increased passenger numbers and jobs.
Ryanair</a> David O&#39;Brien on Italian tourism policy: taxes kill competitiveness for small airports <a href="https://twitter.com/hashtag/InvestInTourism?src=hash">#InvestInTourism</a></p>&mdash; Benedetta Bellemo (FrisoBellemo) April 5, 2016