The difficult task of securing Egypt's financial future
Comments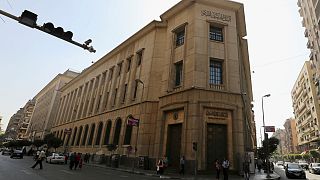 When will Egypt get a $12 billion (10.7 billion euro) loan from the International Monetary Fund?
That was the question that has dominated EuroMoney's major conference in Cairo on the country's financial future.
The government has said it is making "very good progress" towards getting the financing from other sources that is needed to secure the IMF money.
Egypt's International Cooperation Minister Sahar Nasr pointed to an agreement with the European Investment Bank. She told reporters: "We've doubled the amount of money from the EIB, directed to Egypt's private sector, and we are interested in developing the private sector through cooperation with international institutions, with long-term financial loans."
The $560 million (501 million euros) EIB loan is intended to create more jobs in small and medium sized enterprises (SMEs), something which is greatly needed in a country with such high unemployment.
HE Dr Sahar Nasr MOICEgypt</a> takes to the stage <a href="https://twitter.com/EuromoneyConf">EuromoneyConf#emegyptpic.twitter.com/ERkCbswbDK

— Sara Leech (@SaraLeech2) September 19, 2016
Min Nasr: For reforms to be successful, they must be accepted. 71% of polled delegates think the #IMF agreement isn't good for all #emegypt

— Sara Leech (@SaraLeech2) September 19, 2016
Amr Almuniry, an adviser to the Egyptian finance minister, told Euronews the country is pressing ahead with an economic reform programme that should be tough enough to impress the IMF: "Our reform plan contains a comprehensive programme of economic, financial and tax reforms, done in cooperation with the international institutions and completely endorsed by them."
To address one of the highest budget deficits in the Middle East – and get the international loans -Egypt's reforms include a sales tax, higher energy prices and cutting government spending.
It is also getting cash from oil-rich Gulf Arab states.
Challenges in the gulf, but still a lot of interest in Egypt from GCC investors – Tarek Tantawy #emEgypt

— EuromoneyConferences (@EuromoneyConf) September 19, 2016
Conference organiser Alex Cobos of EuroMoney Learning Solutions explained: "The government is trying to re-boost the activity, the economy of the country, but they still need support from other regions."
Mohammed Shaikhibrahim, Euronews' Cairo correspondent covering the conference, concluded: "For Arab and international investors, this conference represents an opportunity to look closely at the government's reform programme, and see if they find an attractive enough destination for them to invest in, given the current security and social challenges."