Egypt sees stability for its economy with IMF loans
Comments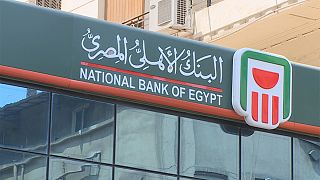 Egypt says it is close to agreeing loans from the International Monetary Fund that it hopes will restore confidence in its struggling economy.
Tourists and foreign investors – key sources of hard currency – have been scared off by political instability since the uprising five years ago that ended Hosni Mubarak's 30-year rule.
Egypt is now looking for $12 billion from the IMF over three years but would have to offer major economic reforms.
Economist Mohammed Alnajar told Euronews even that will not be enough: "Egypt doesn't currently have the legal system in place that would be able to attract foreign investment, so even if the IMF approves this $12 billion loan over three years, that doesn't mean foreign investors would rush to come to Egypt, we lack the legal framework and we're also lacking strong infrastructure."
A dollar shortage and the slumping value of the Egyptian pound has pushed up the cost of imports – fuel, medicines, basic commodities and raw materials to keep factories operating.
NEW: An #IMF Program for #Egypt – Third Time Lucky? by Mohsin Khan and elissafmiller</a> <a href="https://t.co/kgGGkQqRnq">https://t.co/kgGGkQqRnq</a> <a href="https://t.co/4k0vUXPVTm">pic.twitter.com/4k0vUXPVTm</a></p>&mdash; Rafik Hariri Center (ACmideast) August 1, 2016
Food prices are also spiralling up with high levels of inflation. Poorer Egyptians are suffering as the government removes subsidies and talks about devaluing the currency:
Yaser Abdulallah, a manager with the Hyper Plus supermarket in Cairo, explained: "Customers are now spending less money than before, only buying their basic food needs, to survive, and they've stopped buying a lot of other products recently because the rising dollar exchange rate has caused prices to increase, so this negative effect is normal."
An IMF loan, together with cash pledged by Saudi Arabia and the United Arab Emirates as well as the World Bank, could buy Egypt time reforms like cutting further subsidies, trimming a bloated civil service, privatising state-owned firms and introducing a sales tax.
Ordinary Egyptians know it won't be easy. One man told us: "Our economic situation is unstable, we suffer from the Egyptian pound falling to new lows against the dollar, so we're always worried and stressed – its really important to find a solution to this crisis."
Just after the IMF negotiators arrived in Egypt, President Abdel Fattah al-Sisi made a speech warning tough measures would be needed to turn the country's ailing economy around, but stressing reforms are home-grown and not imposed from outside.
Sisi announces austerity measures while Egypt finalises IMF loan https://t.co/skUZLVbmeXpic.twitter.com/8xRQdKjZbS

— Middle East Eye (@MiddleEastEye) August 2, 2016
Euronews Cairo correspondent Mohammed Shaikhibrahim concludes: "Egyptians are awaiting the outcome of their government's negotiations with the IMF, hoping they will work and can revive an economy that's becoming increasingly troubled day by day, but many people fear the IMF could impose tough preconditions, adding insult to injury."