Spain's economy to 'grow by over 3%' despite lack of government
Comments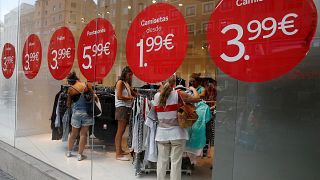 Spain's economy will expand by more than 3 percent this year according to the acting economy minister Luis de Guindos.
That is a stronger performance that the 2.9 percent growth the government forecast in July but down from last year's 3.2 percent.
However, de Guindos in an interview with the newspaper ABC did warn, "the lack of government is having an effect on the economy".
He added: "There are factors which already indicate that it is causing a deceleration."
Spain has twice held national elections in the last nine months without a clear parliamentary majority emerging.
De Guindos said the negative effect of the political situation, due in part to sliding economic sentiment and falling demand for credit, will be felt by the fourth quarter.
Spain will tell authorities in Brussels the economy will expand by 2.4 percent next year, slightly above its current forecast of 2.3 percent, Spanish newspaper La Razon reported on Monday citing government sources.
Not having a government hasn't stopped IMF boosting forecast for Spain's economic growth in 2016: https://t.co/6hBK5IwZ2S

— El País in English (@elpaisinenglish) September 16, 2016