Inter Milan come from behind to beat Juventus at the San Siro
Comments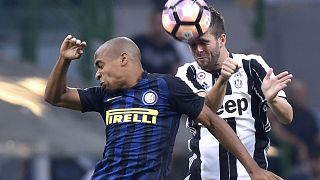 Inter Milan substitute Ivan Perisic secured a 2-1 win against champions Juventus as the hosts recorded their first Serie A victory over their arch rivals in eight games.
Stephan Lichsteiner had knocked in Alex Sandro's low cross to give Juve the lead in the 66th minute in a typically tense encounter but Inter captain Mauro Icardi levelled two minutes later by heading home from a corner.
Icardi then provided a stylish cross with the outside of his boot for Perisic to score the winner in the 78th as Juve lost top spot to Napoli.
Relive the magnificent performance by our beloved Inter against Juve.https://t.co/idf1deewPB

— FedeNerazzurra (@_FedeNerazzurra) September 18, 2016
Up and down
On the up this week is Mauro Icardi who inspired this superb comeback win for Inter. The Argentinian striker scored 16 goals in 33 league games last season and looks set to keep his momentum going. He is joined by Inter coach Frank De Boer who bounced back from his side's shock home defeat against Hapoel in the Europa League on Thursday.
On the down is Kwadwo Asamoah. The 27-year-old was at fault for the Nerazzurris second goal while pundits were quick to blame Massimiliano Allegri. The Juve boss sprung a surprise by dropping star striker Gonzalo Higuain to the bench as he was looking to restore momentum after a frustrating goalless draw at home to Sevilla in the Champions League on Wednesday.
Allegri: I was right to drop Higuain for Inter game https://t.co/ObMgDR3giipic.twitter.com/28r7SXJqGo

— Goal UK (@GoalUK) September 19, 2016
Old rivalry
Paula Vilaplana: "This particular fixture has a long tradition of being tense on and off the pitch. The first match took place in 1909 but let's go back in time to 1998, which saw one of Serie A's most controversial game unfold in Turin. A host of big names were battling it out in this crucial game but referee Pietro Ceccarini was undoubtedly the main protagonist following his decisions during the match."
On April 26 1998, Inter came to Turin just one point short of league leaders Juventus. Zinedine Zidane's team-mates opened the scoring before Brazil international Ronaldo was denied a penalty for what seemed like a foul on him by Mark Iuliano. Minutes later, Alessandro Del Piero was awarded one at the other end amid further controversy. Although Juve eventually missed the penalty, this narrow 1-0 win has prompted one of the most fierce football rivalries between fans of both teams.
We might be wrong
The Corner just wouldn't be the same without a few predictions but as you probably already know by now, we might be wrong so why not have a go yourselves and send us your predictions on social media using #TheCornerScores.
FC Barcelona 3 – 1 Atlético de Madrid
Manchester United 1 – 2 Leicester
AC Milan 2 – 2 Lazio
Bloopers
Paula Vilaplana: "Let's end the programme with an extraordinary football challenge. The Los Angeles Galaxy pair Steven Gerrard and Robbie Keane took on a team of 30 eight-year-old children in California. Enjoy and make sure you join us next week for another edition of the Corner. See you soon."
Gerard really should have closed that ball down at 44 seconds https://t.co/cq7LnBOLfW

— Gerard Brady (@gbrady555) September 16, 2016