Six years a squatter - The long legal battle of Julian Assange
Comments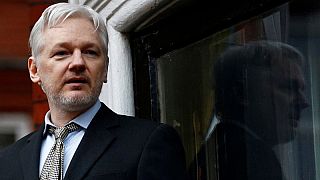 Julian Assange's marathon duel with the law began six years ago. In 2010 the Wikileaks founder had Washington up in arms after he published 500,000 secret classified documents on the Iraq and Afghan wars, along with 250,000 diplomatic cables.
As Wikileaks stands under threat so does the freedom of expression and the health of all our societies
The former hacker became a hero for some, but public enemy number one for the Americans and a number of other governments, who said his revelations had put national security under threat, and lives of government agents and employees in danger. There is no evidence this is the case.
In December 2010 Assange was arrested by British police after Sweden issued a European Arrest Warrant based on an accusation of rape. Assange was freed on bail awaiting an appeal against extradition to Sweden, and the justice machine rolled inexorably on.
Assange denies the charges against him but fears that extradition will merely be a prelude to Sweden handing him over to US justice. In the following 18 months he exhausted all his appeal possibilities under British law.
And on May 30 2012 the UK Supreme Court issued its final ruling.
"The majority has concluded that the Swedish public prosecutor was a judicial authority, within the meaning of both the framework decision and the extradition act. It follows that the request for Mr Assange's extradition has been lawfully made and his appeal against extradition is accordingly dismissed," said Supreme Court President Lord Justice Nicholas Phillips.
To avoid extradition, Assange took refuge in the Ecuadorian embassy in London, where he has lived ever since. On August 19 2012 he spoke to a crowd gathered outside with his new status conferred by Ecuador as a "person being prosecuted for political crimes".
"As Wikileaks stands under threat so does the freedom of expression and the health of all our societies," he said.
In February 2016 the UN's working group on Arbitrary Detentions declared that Assange's forced embassy refuge was just such an arbitrary detention.
"The Working Group maintains the arbitrary detention of Mr. Assange should be brought to an end, and his physical integrity and his freedom of movement should be respected," said Chair-Rapporteur Hong Seong-Phil.
The legal tug-of-war continues, but there has been one development. Swedish investigators who had previously refused to travel to Britain to interview Assange, may now question him in London on October 17.