Berlin elections loom, but is another setback on the horizon for Angela Merkel?
Comments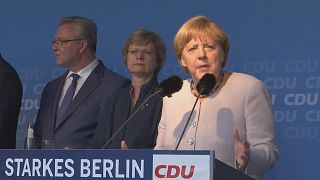 Berlin is set to vote on Sunday in Germany's second regional elections in as many weeks and all signs are pointing to another blow for Chancellor Angela Merkel.
Her so-called open door refugee policy has hit her and her Christian Democrat (CDU) party hard and at the same time boosted support for the anti-immigrant Alternative for Germany (AfD) party.
A slump in support for the CDU could deepen a growing rift with its coalition partners, the centre left Social Democrats (SPD).
SPD politician and Mayor of Berlin Michael Mueller is expected to retain his position.
"I remember when Pegida protests took place there was a strong resistance in Berlin and therefore I think that the results of the elections two weeks ago in Mecklenburg-Western Pomerania mobilised people here (against the AfD – Alternative for Germany, right wing party)," he said. "They say we don't want this in our city, we don't tolerate it."
Despite being the SPD's junior partner in local government, the CDU has historically had weak support in the capital. Polls suggest Merkel's party's mayoral contender, Frank Henkel, is considered equally shaky.
Mueller says if he wins he wants to ditch the existing coalition for a more left-leaning one, which is likely to include the Greens and Die Linke (the Left).