Siamand Rahman, the strongest Paralympian ever
Comments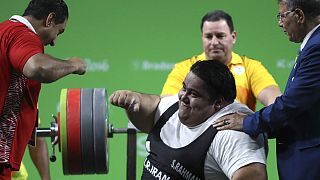 His name is Siamand Rahman, and he is the strongest Paralympian ever, breaking 300kg and winning gold in the men's powerlifting heavyweight category.
Rahman on Wednesday smashed his previous Olympic gold performance.
In 2012 in London he lifted 280kg. He has now raised the bar in Rio by another 30 – reaching an unprecedented 310kg.
To put that into context, that is the equivalent of lifting three baby elephants, and then some.
The 28 year old from Iran set an early lead in the competition lifting 270kg on his first attempt. By his second he had reached 300kg, then 305kg and then finally 310kg by his third and fourth attempts.
"I feel very happy and proud for having broken the 300kg barrier and for being the strongest Paralympian in the world," Rahman said to paralympic.org. "I want to be an inspiration for all people with impairment who stay at home and don't lead an active life, and especially for the youth."
In his first post on instagram after winning gold, Rahman expressed his thanks to all of Iranians.
Rahman, is in his second year into a law school. He was born with a congenital disorder in his legs prohibiting him from competing against able-bodied powerlifters. He is from Iran's West Azerbaijan Province and is Kurdish.
Rahman was expected to break the 300kg barrier. At the 2014 World Championships in Dubai, United Arab Emirates, Rahman lifted 285kg and later that year, 290kg at the Asian Para Games in Incheon, Korea.
He was joined in Rio by fellow medallists Amr Mosaad from Egypt who lifted 235kg (silver) and Jordan's Jamil Elshebli who lifted 234kg (bronze).