Back on the trail: Analysing Clinton's game plan
Comments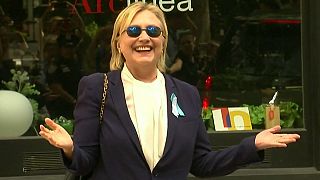 With a clean bill of health, Democratic presidential nominee Hillary Clinton is hitting the road again. Euronews correspondent in Washington Stefan Grobe analyses her game plan as she hits the final two month stretch before the election.
"Hillary Clinton's return to the campaign trail in North Carolina this Thursday tells 2 things: one, that she obviously feels much better than last week-end and two, that North Carolina, that traditionally vote Republican, is up for grabs this year. Her campaign believes that one upside for Clinton's break from the trail was having time to sharpen the final argument she will present to voters in these closing weeks. This final argument is that only Hillary Clinton cares about working-class families and policies that provide fairness and opportunities to all.
Now, North Carolina, that has emerged as almost as critical to victory as Ohio or Florida, offers the ideal target audience, a lot of blue collar workers and growing minority communities. Clinton hopes that these voters care more about bread and butter issues than about the candidates' health bulletins and that she can manage to prevent these voters from flocking to Donald Trump".
Hillary Clinton has the support of 46% of voters, to 44% for Donald Trump, a NYT/CBS poll shows https://t.co/Jmch6mjbUt

— The New York Times (@nytimes) September 15, 2016