"Stop clowning around" says Georgia state police department
Comments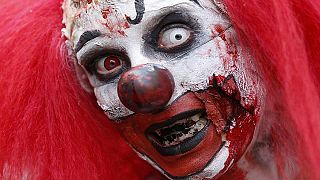 Police in the US states of Georgia and both North and South Carolina have been receiving calls from children and adults after "clown sightings".
Since August 2016, police have received multiple reports of people dressed as clowns chasing and scaring children and adults alike. Some reports even suggest the clowns have attempted to lure children into woods or parks.
So apparently clowns have invaded South Carolina and Georgia?

— JD Benefield (@Ratix_L) September 14, 2016
they gotta get this whole clown situation under control before they come down to south georgia cause I don't do clowns

— abby (@AbbyHaugen) September 14, 2016
Let a clown mess with me. The Georgia law is written so that you can shoot someone as long as you're in fear for your life. That applies

— hassey (@ChaseHassey) September 14, 2016
Michaela Brooks of Dublin, Georgia, is one resident who said she and her sister saw the clowns.
She told local media that "A car came up behind us and parked. I didn't think much of it, until my sister started freaking out, and she told me they were dressed as clowns".
Brooks added "we could only see part of them because they were parked to the back of us … you could see the big hair".
Local police did not see the funny side, posting on Facebook that the behaviour is neither "cute or funny" and those found responsible "may face criminal charges".
The first reports of creepy clown sightings came in South Carolina in August, when a mother reported her son had seen a "suspicious character … dressed in circus clown attire and white face paint, enticing kids to follow him/her into the woods",
Since then numerous similar incidents have been reported across South Carolina and across the border to Winston-Salem and Greensboro in North Carolina and south into Georgia.
Captain Terry w/ GSO_Police</a> "this is bizarre." But he goes on to say, no crime was committed. <a href="https://twitter.com/myfox8">myfox8pic.twitter.com/ZY9PKUeT3c

— Nick Sturdivant (@N_SturdivantTV) September 6, 2016
However police in Georgia say that at least one account of a clown sighting, this time involved in a car crash, was in fact fabricated.
"We can't say for certain that someone hasn't seen anyone looking like a clown, but we have had several reports…we have yet to substantiate," said Dublin Police Chief Tim Chatman.
Photo: File. cc Flickr @ chubstock