Ex-Israel President Shimon Peres 'critical but stable' after stroke
Comments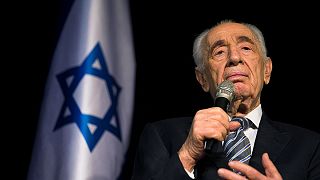 Former Israeli President Shimon Peres remains in a "critical but stable" condition following a stroke, according to his doctor who is also his son- in-law.
Rafi Valdan said it was too early to say whether there was lasting neurological damage but the indicators for the 93-year-old's broader health were good.
The ex-leader was hospitalised in Tel Aviv on Tuesday following what was described as a "massive stroke" that affected the right side of his brain, and has been put into a medically induced coma.
"Mr Peres this morning is stable, in a critical condition but stable. We are moving him to the neurosurgical intensive care unit and we are going to keep on the multi-disciplinary evaluation by our expert teams," said Yitzhak Kreiss, Sheba Medical Centre Director.
In a career spanning nearly 70 years, Peres has been part of every major development in Israel since the country was founded.
He was twice a Labour prime minister and jointly won the Nobel Peace Prize in 1994 following an interim Palestinian peace deal, although the pact never hardened into a lasting treaty.
Valdan, who is married to Peres' daughter, has said he does not believe that his life is in imminent danger but called it a difficult time for the family.