Brazil's ex-speaker Eduardo Cunha expelled from office amid corruption charges
Comments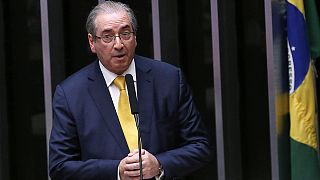 Eduardo Cunha, the man dubbed Brazil's most corrupt, and former speaker of the lower house has been stripped of his seat.
The chamber voted 450-10 to remove him from office.
He was charged with corruption and denied the existence of Swiss bank accounts, he now faces arrest.
Defending himself, he said he was 'paying the price' of having led the impeachment against ex-leader Dilma Rousseff. He said it is the price he had to pay for 'freeing the country of her Worker's Party rule'.
A lively and often venomous debate preceded the vote.
Ivan Valente, deputy of the PSOL Party (Socialism and Liberty Party) from Sao Paulo, made an impassioned call for his removal,saying that Cunha was corrupt and that he had to go for justice to prevail, before chanting 'Cunha Out'.
Cunha is also under investigation for taking kick backs in a scandal involving the state oil company, Petrobras. He has threatened to implicate others, leaving some members of President Michel Temer's new government vulnerable.
What began with the removal of Rousseff, some analysts are saying, could mark the beginning of an era of cleaner politics.