Muslim pilgrims begin last rituals of hajj in Mecca
Comments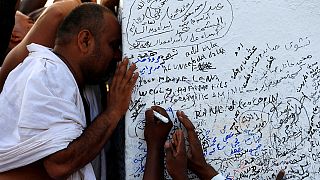 Thousands of Muslim pilgrims have begun the ritual of the stoning of the devil in the Saudi City of Mina. It was during this ritual last year that around 2,300 people died during a stampede.
A number of security measures have been rolled out this year to avoid tragedy, these include bracelets which store personal data, the widening of roads as well as helicopters in the air and officers on the ground to avoid bottlenecks around the Jamarat bridge.
The stoning ritual is performed three times over the coming days.
Along with the circling of the Kaaba it marks the last rite of the annual Hajj pilgrimage, where more than one million pilgrims gather for five days of rituals and prayers.
It comes as Muslims around the world began marking Eid al-Adha or 'the Feast of the Sacrifice', one of the most important holidays in the Muslim calendar.