Chinese student sues over books that call homosexuality a "disorder"
Comments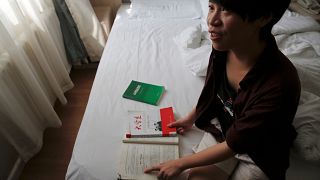 A Chinese student is taking the ministry of education to court over textbooks that say homosexuality that is a "mental disorder".
Chinese universities still use books that refer to homosexuality as a "disorder" and an "impediment".
Homosexuality was listed as a mental disorder until 2001.
Qiu Bai, a media studies student at Sun Yat-Sen University in Guangzhou, said while questioning her own sexual orientation, she happened across similar books that refered to homosexuality in this way.
"Since 2001 when homosexuality was declassified as an illness in mainland China, 40 percent of the psychology and mental health teaching materials published on the mainland say homosexuality is an illness," Qiu told Reuters.
The 21-year-old said she took the issue to the ministry and to the publishers of the books last year. After she was ignored by both she took her case to court.
She said the Ministry of Education promised to resolve the situation through mediation on the proviso that she dropped the case. But that failed to materialise.
It is not illegal to be gay in China and these days many large Chinese cities have thriving gay scenes, though there is still a lot of family pressure to get married and have children, even for gay men and women.
The Ministry of Education did not send a lawyer to Monday's hearing, and representatives declined to answer reporters' questions.
The ministry did not respond to a request for comment.