Belarussian opposition win parliamentary seat
Comments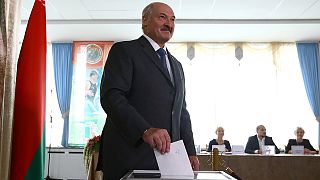 Opposition groups have won seats in parliament for the first time in twenty years.
Anna Konopatskaya, a member of opposition party United Civil Party, won a place in parliament, election results showed. Independent candidate Elena Anisim, who has links to the opposition, was also elected.
Newly elected opposition member of the BY parliament, deputy chair of the Belarusian Language Society Alena Anisim. pic.twitter.com/gq2quVFWka

— Belarus Digest (@BelarusDigest) September 12, 2016
MPs loyal to President Alexander Lukashenko retained power with 108 of 110 seats in parliament.
After calls from the West for more transparency, opposition candidates were able to register more easily and external monitors were allowed access to the vote count.
Though the presence of opposition candidates in parliament will do little to change the political landscape, their inclusion shows authorities are willing to change in order to boost relations with the West.
"We've done everything so that there aren't complaints from the Western side. We accommodated their requests," Lukashenko told journalists after casting his vote in Minsk.
Ties between Minsk and Western countries have become less strained after Belarus held a peaceful presidential election last October.