Portugal's Douro Valley hosts Eurovision Sports Games
Comments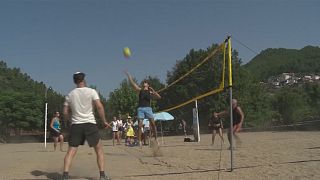 The Douro Valley is world famous for the Porto wine and September is a crucial month.
It's the time when everything begins, with thousands of people getting the production process going with the harvest.
This year, however, the workers had to share the spotlight with hundreds of "sportsmen" that took the region by storm.
"The beauty of Douro is breathtaking but it wasn't tourism that brought us here, says our reporter Bruno Souza.
"The excuse we found was the 59th edition of the Eurovision Sports Games.
"One week of competition, not always of the highest level and which is unlikely get a spot in sports history, It still brought us some fine moments, though."
In total, we had 317 sportsman in Portugal, that is 317 workers from several European TV broadcasters, representing nine countries, who still find a way to include sports into their lives.
The competition had events such as football, athletics, cycling, bowling, golf, swimming, petanque, tennis, ping pong and beach volley.
At the end of the day, the results were the least important thing, it was the taking part.
The next edition of the eurovision sports games will take place next year in Mons, Belgium.