North Korea suspected of conducting fifth nuclear test
Comments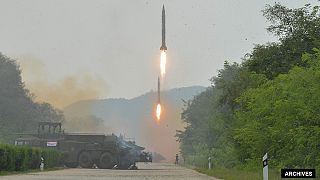 North Korea is suspected of conducting its fifth nuclear bomb test after a huge seismic shock was detected near the country's Punggye-Ri atomic site.
Both the US and China recorded a 5.3 magnitude earthquake near the area.
In South Korea, the Yonhap news agency described the quake as ''artificial'' after officials in Seoul said they believed it was highly likely the North had carried out its most powerful atomic test to date.
Reacting to the possible explosion, Japan's Shinzo Abe said: "If North Korea did carry out a nuclear test, it's something absolutely inadmissible, We need to and will strongly protest against (their actions)."
In addition to a series of ballistic missile tests this year, Pyongyang conducted its fourth nuclear test in January, purported to be a hydrogen bomb, which resulted in tough new UN sanctions.
Speculation has intensified recently that the North was preparing to conduct its fifth atomic test after the US blacklisted the country's leader, Kim Jong Un, in July for human rights abuses.