Syrian refugees return home and praise Turkish military action
Comments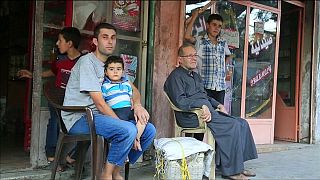 Turkish officials say nearly 300 Syrians have gone back to the town of Jarablus; marking the first formal return of civilians since Turkey launched a massive military campaign last month against Islamic State militants.
"We return to the embrace of our country, Syria, our dearest country, and to Jarablus we return. We thank the Turks and the others, may God forgive them. Thank you," said Omar, a refugee from Jarablus.
Jarablus, which had been held by the ISIL, was the first town captured by Turkey's army and its Syrian rebel allies; and the relief among residents was clear.
"All the people returned. The people who left came back. The situation is good, but we are suffering from a shortage of services. The main problem is water, bread and electricity," said market worker Abu Ahmad.
Turkey has urged world powers to back plans for a "safe zone" in northern Syria to stem the flow of migrants but it's so far failed to win support for the idea.