Obama reminds Beijing tribunal ruling on South China Sea is 'binding'
Comments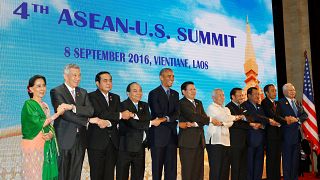 Barack Obama has reminded China that an international ruling rejecting Beijing's territorial claims in the South China Sea is "binding".
Speaking at a summit of Southeast Asian leaders in Laos, the US president said he recognised the matter raised tensions which he hoped could be eased.
Washington has looked to the ASEAN gathering to strengthen its ties with countries in the region in the face of Beijing's growing influence.
"ASEAN is key to the US 'rebalance' to Asia and more importantly is key to a peaceful and prosperous future for the world," the US president said. "With respect to maritime issues, we'll continue to work to ensure that disputes are resolved peacefully including in the South China Sea. The landmark arbitration ruling in July, which is binding, helped to clarify maritime rights in the region."
A statement from the 10 leaders at the summit played down the tensions which have set China at odds with countries such as the Philippines, Vietnam and Japan.
Beijing has vowed to ignore the verdict in July by an international tribunal in The Hague saying that Chinese territorial claims had "no legal basis".
China, the strongest power in the region has continued to re-claim land on several disputed reefs through dredging, and building airfields and port facilities – while objecting to what it calls "interference" from countries outside.