Civilians reported killed by 'Saudi-led coalition airstrike' in Yemen
Comments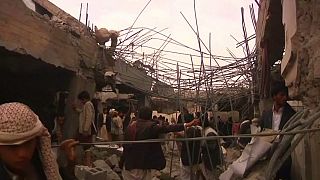 At least nine civilians including four children have been killed in Yemen in an air-strike near the capital Sanaa, according to local residents.
The attack is said to have hit a three-storey block of flats in Amran City.
It was reportedly carried out by the Saudi-led coalition which has been fighting to reverse gains made by Houthi rebels allied to Iran.
"There were air strikes in this district. There are only civilians here. There are no weapons here, no armed people, nothing, it was just injustice and an agression. There were two air strikes: the first killed two families," said a local man.
Some residents say the building was struck three times while a school next door – empty at the time – was hit twice.
The coalition, which is trying to restore former President Hadi to power, says it does not target civilians.
Among previous attacks, a strike on a hospital run by Doctors Without Borders prompted the international medical charity to withdraw staff from northern Yemen.