WHO warns zika virus more resilient and spreading fast
Comments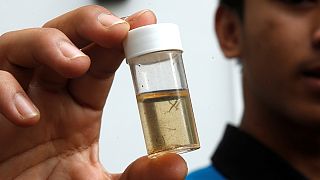 In Asia Singapore had the first confirmed local transmission of the zika virus, back in August. It was not an infection carried in by someone from outside, but a locally-incubated contagion from a local mosquito. Here as elsewhere the female Aedes Aegpti mosquito is the culprit.
This small city state with an advanced medical infrastructure detects diseases and epidemics early, unlike for many other nations in the region, and has the resources to cope.
On August 31 Singapore became the 58th country to declare an active zika hotspot, according to a survey by America's Centre for Disease Control and Prevention.
But the World Health Organisation fears that the risks of propagation have been under-estimated in other south-east Asian nations, where diagnosis is far less developed. On the list of countries where transmission risks are thought to be local and endemic are Thailand, Indonesia, Vietnam and the Philippines.
The epidemic of the Asian strain of the zika virus was first discovered in latin America in 2015. In the entire Americas only Chile, Uruguay and Canada have been spared.
In Africa only Cape Verde has been affected for the moment.
But in the pacific region the CDC has identified active local hotspots in eight countries.
In February 2016 the World Health Organisation declared that the zika virus was spreading fast, and that it was an "international public health emergency".
"Though we know more about Zika after the first seven months, there is still an urgent need to continue to sustain the global research and this still does remain an emergency of international concern. Zika is beginning to spread, continuing to cause outbreaks in many countries around the world," said the WHO's Emergency Committee chair David Heymann.
Yesterday the WHO revised upwards the period of risk of sexual transmission to six months from just eight weeks, during which time abstinence or prophylactic use should be followed, even if there are no symptoms.
This is because the consequences are so serious for unborn children.Serious anomalies in brain development including microcephaly and deafness can result.