FIFA happy with Luzhniki refurbishment ahead of 2018 World Cup
Comments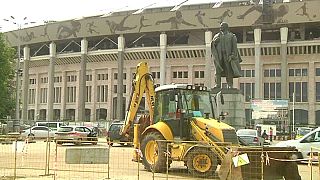 A FIFA delegation is in Moscow to inspect the refurbishment work being carried out on the Luzhniki Stadium
ahead of the 2018 World Cup.
The venue, which has a capacity of 81,000, will host both the opening match and final of the tournament.
See: FIFA: Reconstruction works at Luzhniki Stadium in line with 2018 World Cup schedule https://t.co/9qndNWh2D0pic.twitter.com/FsANCqy8O6

— XaniaNews (@XaniaNews_com) September 7, 2016
FIFA's director of operations Colin Smith says they are satisfied the work is on schedule:"I can say that you know the situation for Luzhniki is very much green, which means on track and in progress. You know I think we can all see for ourselves yes, there is a lot of work to be done, but it's on track, it's on schedule. And I'm confident that at this stage that all the commitments and timelines will be met.''
Luzhniki Stadium, Moscow – August 10, 2016. Source: https://t.co/jL6w0a5Yf1#Luzhniki#Russia2018#WorldCup2018pic.twitter.com/2Vu7TnUikB

— Zé Ruela (@ingrampoveritas) August 10, 2016
The World Cup 2018 will be held between June 14 and July 15 at 12 different stadiums in 11 cities.
Obreros en el tejado del estadio Luzhniki en Moscú que se prepara para el mundial de Rusia. Increíble foto. pic.twitter.com/wHmX0dXKJJ

— Gaby Campos (@gakuize) September 7, 2016
There will be two in Moscow then one each in St. Petersburg, Samara, Saransk, Rostov-on-Don, Sochi, Kazan, Kaliningrad, Volgograd, Nizhny Novgorod and Yekaterinburg.