'Black Lives Matter' protest paralyses London City Airport
Comments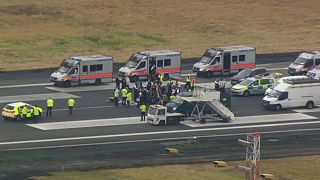 Campaign group 'Black Lives Matter' brought London City Airport to a standstill on Tuesday morning after activists set up a wooden tripod and locked themselves together on the runway.
The UK arm of the group said it wanted to highlight Britain's environmental impact on the lives of black people locally and globally.
The protest began before 6.00 am local time at the airport, a few miles east of the Canary Wharf financial district.
The UK is the biggest per-capita contributor to temperature change & among the least vulnerable to its affects. pic.twitter.com/Bb5SmKWyt6

— #BlackLivesMatterUK (@ukblm) 6 septembre 2016
Climate crisis is a racist crisis. 7/10 of the countries most affected by climate change are in sub-Saharan Africa. pic.twitter.com/TN3AZc2ldG

— #BlackLivesMatterUK (@ukblm) 6 septembre 2016
Police surrounded and, after several hours, removed all nine protesters who had come with large posters, one proclaiming "Climate Crisis is a Racist Crisis".
"Black people are the first to die, not the first to fly, in this racist climate crisis," the group said in a statement.
"When black people in Britain are 28 percent more likely to be exposed to air pollution than their white counterparts, we know that environmental inequality is a racist crisis."
The campaign group, which blocked a main road to London's Heathrow Airport in August, said City Airport was designed for the wealthy while those who lived near the site struggled on low salaries.
'Black Lives Matter' started in the US in response to fatal shootings of black people by white police officers.
In a separate problem affecting British Airways, a computer glitch at check-in desks on Tuesday meant delays for many passengers.
British Airways said it was taking longer than normal to process customers at a number of airports, including London's Heathrow and Gatwick. Earlier reports said there had also been delays abroad.
British Airways check-In glitch causes global delays: https://t.co/comepJXVpUpic.twitter.com/tK8TEieKcc

— TODAY (@TODAYshow) 6 septembre 2016
BA apologised to customers and urged passengers to check in online before they reached the airport.