Pro-Rousseff protesters demand Temer's removal in Brazil
Comments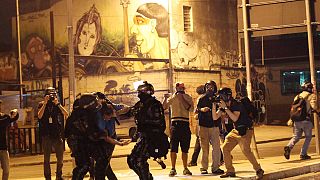 There was tension and some clashes as tens of thousands took to the streets of Sao Paulo – in the latest protest against the new Brazilian President Michel Temer following the Senate's decision to oust Dilma Rousseff.
Riot police fired tear gas as the rally ended, saying they were forced to intervene to stop vandalism.
It was the largest of a wave of protests since the new leader was sworn in last week.
"I came here because we need to fight for a better Brazil, fight for democracy against those who carried out the coup in our country. They need to fall as soon as possible," said protester Carlos do Vale.
The rally was smaller in Rio de Janeiro – but hostility to the impeachment of Brazil's first female president is strong.
Rousseff is appealing against the process and has promised to call for new elections if given back the presidency.
Protesters who called for Temer to go say he and his allies illegally removed the former president from power in what amounted to a "coup d'etat".