Hong Kong votes in Legislative Council election
Comments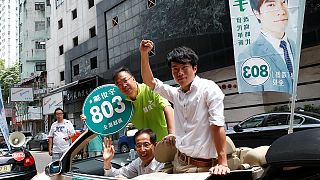 Voters in Hong Kong were heading to the polls today (September 4) to choose candidates for its Legislative Council.
Leader of the semi-autonomous city Chun-Ying Leung was among the first to vote. He urged others to do the same.
It is Hong Kong's first major election since pro-democracy protests two years ago.
A new crop of radical activists are challenging both pro-Beijing rivals and Hong Kong's mainstream pro-democracy for seats.
As they left the street 2yrs ago Hong Kong's ☂ protesters vowed to be back. Could it be today? #LegCo2016 has begun. pic.twitter.com/idTpR4Nlh5

— Alan Wong (@alanwongw) September 4, 2016
Last weekend about a thousand protesters rallied through Hong Kong against a ban on six pro-independence candidates from running in the election.
The idea of independence is dismissed as illegal by Beijing and Hong Kong authorities.
The former British colony was returned to China in 1997 with an arrangement that guaranteed a high degree of autonomy.
But Beijing's refusal to grant full democracy has prompted widespread street protests.
Hong Kong goes to polls amid anger over China's tightening grip https://t.co/e9xxv2B4Pr

— Guardian World (@guardianworld) September 4, 2016