Philippines declares 'state of lawlessness' after deadly blast
Comments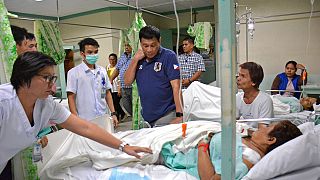 President Rodrigo Duterte has declared a ''state of lawlessness'' in the Philippines after a bomb attack in his home city killed at least 14 people.
Around 70 others were injured in Friday's blast at a night market in Davao.
The Abu Sayyaf militant group has said it was behind the explosion, which took place outside a hotel often frequented by Duterte.
Earlier, the president, who was in Davao at the time of the attack but not near the market, visited victims in hospital.
He has said the decree does not amount to martial law but will allow troops to be deployed in cities to back up police.
Since taking office some two months ago, Duterte has launched a violent crackdown in the Phillipines on drugs and the president confirmed investigators are looking at other possible suspects for the blast, including drug traffickers.