Turkish-backed incursion 'liberates' 400 sq km of northern Syria - President Erdogan
Comments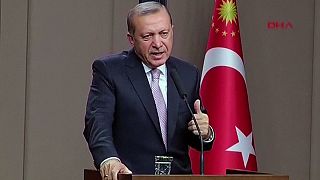 A Turkish-backed incursion Syria has liberated a vast swath of land from terrorists, according to Turkey's president Recep Tayyip Erdogan.
Nobody can expect us to allow a terror corridor on our southern border

Turkish President
Speaking in Ankara, the leader reiterated the importance of protecting Turkey's border with Syria from ISIL and the Kurdish People's Protection Units' (YPG) forces.
He said that Kurdish militants had lied when they said that YPG forces had withdrawn to the east bank of the Euphrates river – a natural barrier between the two countries.
Turkey has long been suspicious of the threat posed by the US-backed Kurdish militants, although Washington says that clashes between the two forces are a cause for deep concern.