German football legend Beckenbauer investigated over 2006 World Cup
Comments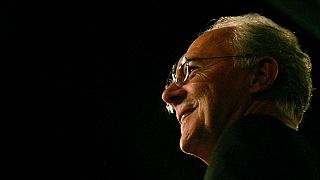 Swiss authorities have opened criminal proceedings against German soccer great Franz Beckenbauer and two former presidents of Germany's football federation (DFB) in connection with its successful bid for the 2006 World Cup.
The Attorney General's office (OAG) in Bern said the proceedings related to allegations of fraud, criminal mismanagement, money laundering and misappropriation.
Raids were carried out simultaneously in eight locations on Thursday with the cooperation of authorities in Germany and Austria, the OAG said.
In all, four members of the 2006 tournament's organising committee were placed under investigation.
They were Beckenbauer – who led West Germany to World Cup wins as both player and manager – former DFB presidents Theo Zwanziger and Wolfgang Niersbach, and former secretary general Horst Schmidt.
Beckenbauer, who could not immediately be reached for comment on Thursday, has previously admitted to making mistakes but has denied wrongdoing.
Widely regarded as one of the game's finest players, he captained the West Germany team that won the 1974 World Cup and was coach when they won again in 1990.
Now 70, he is also a former member of world soccer body FIFA's executive committee.
Earlier this year, Germany's DFB commissioned a report into alleged irregularities over the awarding of the 2006 World Cup.
The report, published in March, said that, while there was no evidence of Germany paying FIFA members in return for votes, payments were made to at least one former FIFA official through a web of accounts involving several other firms or individuals, including Beckenbauer.
FIFA has been in turmoil after a wave of indictments last year of football officials on corruption-related charges, and been forced to investigate how a number of World Cups were awarded, notably the 2018 finals to Russia and the 2022 tournament to Qatar.
FINANCIALLOSS
The OAG said its investigations focused on the joint financing of a gala, initially at the cost of 7 million euros ($7.80 million), later reduced to 6.7 million euros.
"It is suspected that the suspects knew that this sum was not being used to fund the gala event, but instead to repay a debt that was not incurred by the DFB," said the statement.
It said the suspects may have "wilfully misled" other members of the committee's executive board "inducing the other committee members to act in a manner that caused DFB a financial loss."
The World Cup affair, which shocked soccer-mad Germany, was triggered by the payment from the DFB to FIFA, which the DFB said last year was the return of a loan via the ruling body from the late Adidas chief Robert Louis-Dreyfus.
The four named on Thursday were among six people placed under investigation by FIFA's own ethics committee in March over the award.
In the cases of Beckenbauer, Zwanziger and Schmidt, suspected irregularities included "possible undue payments and contracts to gain an advantage in the 2006 FIFA World Cup host selection and the associated funding".
FIFA said this could have breached several articles of its code of ethics.
Niersbach was given a one-year ban from the sport in July after he "failed to report findings about possible misconduct" concerning the awarding of the tournament.
($1 = 0.8980 euros)