Gabon rocked by second night of post-election violence
Comments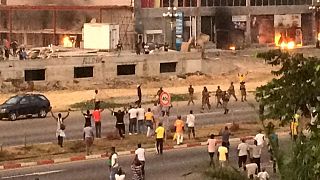 At least three people have died and hundreds have been arrested in a second day of protests in Gabon following the announcement of President Ali Bongo's re-election, amid accusations that the vote was rigged.
Nine neighbourhoods of the capital Libreville saw violent clashes, a day after protesters set fire to the parliament building. Bongo blamed the opposition for the unrest, saying, "Democracy does not sit well with self-proclaimed successes by small groups intent on destruction, democracy does not sit well with the siege of a parliament and of national television.
This project (democracy) is close to my heart and this is what has led me to scrupulously respect the electoral code all the way"
Opposition leader Jean Ping accused the elections commission of boosting Bongo's vote to hand him victory and extend his family's nearly half-century rule for seven more years.
He called for international assistance to protect the population, and told reporters that two people were killed and others wounded when the presidential guard assaulted his party headquarters overnight.