Brazilians react to Rousseff ouster
Comments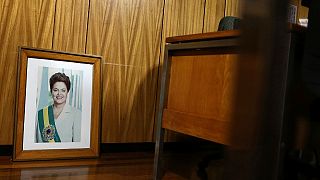 Brazilians have reacted to the ouster of President Dilma Rousseff which ended an impeachment process that polarised the country amid a huge corruption scandal.
For some, her indictment serves as a warning for other political leaders. Others called the process a coup.
Brazils's streets erupted in protest against coup gov't after Dilma Rousseff impeachment. https://t.co/hL8eDhyACFpic.twitter.com/PTO1qMi7yQ

— teleSUR English (@telesurenglish) September 1, 2016
'Coup'
"There is no doubt that this was a coup," said Rio resident Tomas Andres. "Aside from me being a supporter of one party or the other, this was an absolute institutional rupture. They did not respect the law and they took advantage of having the majority in Congress, and an economic crisis."
WATCH: Violent protests erupt in #Brazil after Pres. Dilma Rousseff is removed and Pres. Michel Temer is sworn in. pic.twitter.com/U2L4taZpLp

—

NBC

Nightly News (@NBCNightlyNews) September 1, 2016
'We'll remove Temer too!'
"It would be difficult for the situation to get any worse," said Luis Roberto Rodriguez. "I only hope that [President Michel] Temer does what he is supposed to do because if not, we will remove him too!"
Ousted for breaking budgetary rules, Brazil's first female leader is defiant – vowing to fight on. She insisting on her innocence and denouncing her removal as a 'parliamentary coup' backed by the economic elite.
Impeached Brazilian President #Rousseff quotes Russian poet #Mayakovsky in address to supporters. pic.twitter.com/wiCujFtkFo

— RT (@RT_com) September 1, 2016