Is anyone out there? Mysterious radio signal sparks alien speculation
Comments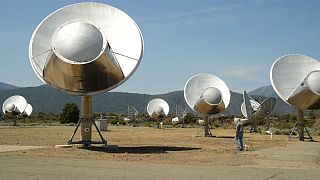 A mysterious radio signal picked up by a Russian telescope was probably not sent by aliens but astronomers in California are checking it out, anyway.
The SETI Institute is at the forefront of the Search for Extraterrestrial Intelligence. Its involvement has heightened speculation that little green men or women could be trying to make contact.
"Picking up a signal is not an unusual thing," explained Seth Shostak, a director at the Institute.
"But this one was found by some Russian astronomers who are very competent. They found it in the direction of a star system that was intrinsically interesting because it was known to have a planet. So of course we are going to follow up on a signal like that."
We're not saying its aliens but... Mysterious SETI signal sends alien-hunters scrambling https://t.co/xpM5IFHcOUpic.twitter.com/VymlgbdgiL

— New Scientist (@newscientist) 30 août 2016
It is more than a year since what seemed to be a non-naturally occurring signal was detected in the general location of a star system, 94 light-years from Earth.
SETI astronomers used an array of radio telescopes to study the suspect star, HD 164595, which has one known planet in orbit.
So far, however, they have not detected any unusual signals from the star, Shostak said.
"Well we didn't find anything over the range of frequencies where they thought they did. So maybe it was ET and he has just gone away! He is on vacation, who knows! Or, I think more likely it was probably just interference, some aircraft with radar that flew over their antenna when they were observing that particular part of the sky."
Let's be careful about this "SETI" signal | @AllPlanets's Blog https://t.co/JIOXDoCDhPpic.twitter.com/LgLuWnXgfV

— The SETI Institute (@SETIInstitute) 30 août 2016
Such a down-to-earth explanation might disappoint those hoping for signs of otherworldly activity.
But we can't be sure either way and the question remains: Is there anyone out there?